Deployment of Web Apps

---
Once a web App has been generated it needs to be deployed so that users can access it through a browser. Usually a web app is accessed via a URL on a web server e.g.
Https://www.appevoke.com/ExampleApp
.
The two Visual Studio folders generated by Evoke (RepositoryAccess and Web) that are located on your computer in the file location specified in "target folder" (see screenshot on right) must be copied to the web server.
When the folders have been copied to the web server it is good practice to edit the file web.config located in the web folder. There are several editing tools that can edit this file including Notepad or Notepad++. An image of the web.config file appears below, click on the file to open a larger image.
The parameter Compilation debug="true" (highlighted) is automatically set by Visual Studio when you initially build your app, setting this to "False" will dramatically reduce the size/footprint of your app.
In order for users to access your web app you will need to have a URL that users can enter into their browsers. This will require setting up of 'A Records' and 'DNS'. If you have not done this before we suggest reviewing the documentation from your web server host where you will find information similar to this web help from the company
GoDaddy
.
This will require you to set up a domain name binding so that the required URL is directed to the web server and finds it's way to the web folder that you have copied onto the web server i.e create an application in IIS that points to the folder location.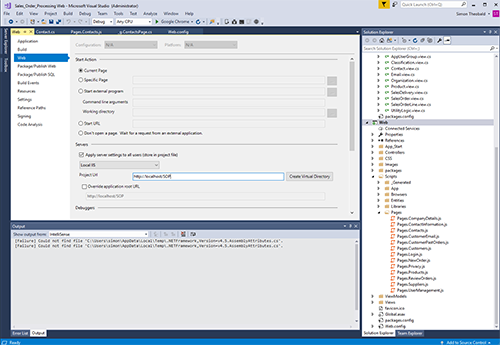 The easiest way to set up the application within IIS is to install Visual Studio on the web server and then open your App Solution within Visual Studio, right click the web folder and select
Properties
(see the screenshot on the right). In the Web section (see list on left of screen), make sure in the server section "Local IIS" is selected and you have added a name in the "Project URL" area (see image on the right). Now, perform a solution rebuild.
BlueFinity
very strongly
recommends that you purchase and use an SSL certificate for the relevant domain name (this provides for an https:// web address as opposed to an http:// address) to ensure that all browser traffic to your web app is secure. This may be purchased from your domain registrar, however a Google search will also be able to guide you.
If you are uploading images or documents (i.e. photographs/print documents/reports) to the web server you will also need to ensure that the relevant folder has write access security.
Finally, it is important that the database that the app will access is accessible from the web server (MultiValue databases will require mv.NET or similar installed on the web server) and that if you have been using a test database then you have re-generated your app design pointing to the live database.