Pages - Headers

---
Headers are usually used to provide information about a data segment and control actions to assist with navigation or management of a data grid. The example shown here shows a header "timesheets summary" on a single entity data segment and the "..." indicates that there are header actions or navigation available via a
header menu
. There are two tabs that need to be considered for a header:
Header General

Header Actions


Header General
The Headers General area allows you to select a header and identify it. The options in the header general area are:
Has Header (checkbox) - checked indicates that the selected segment has a header, unchecked means the current segment does not have a header

Header Text - The text that appears in the header

Header Text (tabbed) - The text that appears in the header when it is adapted to the "tabbed" view

Header Text (alternate) - The text that appears in the header when an adaptation is used to show the alternate header text

Has Header Actions (checkbox) - when checked the Header Actions tab will appear and and actions ellipsis will be displayed in the header

Actions Description - the help/descriptive text that will appear in a "tooltip" that is displayed when the app user hovers over the action ellipsis in the header

Support collapse/expand - enables "accordion" style functionality with an arrow in the header of the segment that allows the segment to collapse (shrink to only show the header) or expand to show all the data as well as the header.

Whole header clickable - works in conjunction with the "support collapse/expland" option - if ticked the whole header (not just the ) is clickable to collapse or expand the segment.



Headers Actions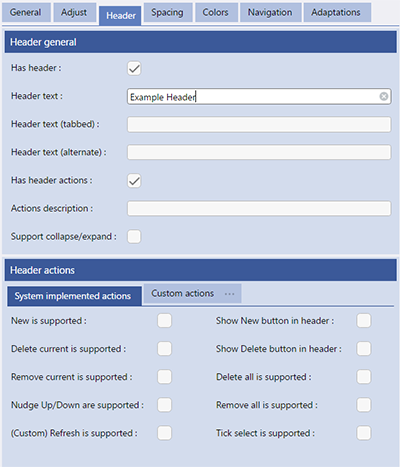 The header Actions area is where you can define actions that are accessed via the header of this segment. There are two separate areas of Actions:
System Implemented Actions

System implemented actions include a number of standard, single function actions that can be applied to most Segments.

Other common actions available, that can be selected from the standard system implemented actions are:

New is supported - provides a header menu entry "new" that creates new empty Entity in the selected Data Source

Show New Button in header - same as New but displays a + symbol in the header next to the ellipsis

Delete current is supported - provides a header menu entry "delete" that deletes the currently selected Entity from the selected Data Source

Show Delete button in header - same as Delete but displays a - symbol in the header next to the ellipsis

Remove current is supported - provides a header menu entry "remove" that removes the currently selected Entity from the selected Data Source without deleting it (uncoupling)

Delete all is supported - allows deleting all the rows in a datagrid for things like a shopping cart clear option.

Nudge Up/Down are supported - allows for re-ordering lists - Nudge up function moves a selected item up 1 place in a list and Nudge down moves the item down 1 place.

Remove all is supported - allows removing (without deleting) all the rows in a datagrid for things like a shopping cart clear option.

(Custom) Refresh - provides a link in Visual Studio for custom table/grid/Data Source refresh if this is required.

Tick Select is Supported - Tick Select adds an action to a list of items such that, when selected, displays an additional column (see image left) with check boxes. This allows multiple items to be selected and further actions performed on them e.g. delete all selected, etc.





---




Custom Actions (which include Evoke Click Actions)

The custom actions options allow you to create/manage multiple header menu options, each with their own Caption, that will appear in the menu and their own ActionID that is used to identify the actions to be associated with the menu item.

Each menu item can also have an Action Type of:

Custom - A Custom Implemented Action

Remove - A system implemented action that removes (without deleting) the currently selected row from the grid displayed within the page segment

Delete - A system implemented action that deletes the currently selected row from the grid displayed within the page segment

ClickActiontrigger - An action that invokes the Evoke Click Action Component library using the associated ActionID