Evoke Case Study - Enteruptors
Enteruptors launches cloud-based business apps to drive international expansion supported by Evoke from Bluefinity International
Enteruptors (Formerly Solutions4Strategy) is a leading provider of innovative software and consultancy services that is revolutionising how companies drive results from strategic planning, risk management, regulation and compliance. Its range of software includes CognitiveReg4, CR4CreditRisk and big data tools to bring cognitive computing to compliance. Its consultancy supports management in changing their back-office to meet the demands of the future.
The company is headquartered in Lindfield in New South Wales, Australia and has offices in the USA and the UK. Its CEO David Jordan has published a book focusing on innovation entitled, 'The CEO Innovation Blueprint' and his belief is that CEOs have to move beyond just automating their business, they have to look at technology like cognitive computing to improve their decision making and enhance their ability to innovate and grow.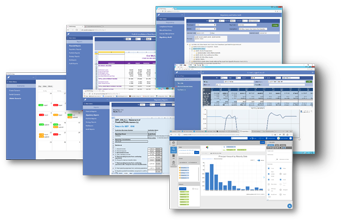 The challenge
Previously, the company installed software on its clients' desktops. However, as the business grew, this process become too resource intensive and costly to manage and maintain. When clients updated their technology, the software wasn't always compatible and sorting out back-end integration issues was challenging.
Keen to resolve integration issues, reduce IT maintenance time, drive down costs and expand globally, Enteruptors decided to launch cloud-based versions of their apps. A key goal was to move into the cloud without recruiting more developers or incurring higher development costs.
David Jordan, CEO, Enteruptors said, "Moving into a cloud-based environment was a key part of our strategic growth plan. We wanted to scale our business internationally and producing mobile apps was critical. However, we wanted to reduce the number of developers, keep our costs down and our organisation lean and dynamic to respond quickly to customers."
"We researched the market for a solution, but found the app development solutions frustratingly limited - they weren't customer-friendly or flexible. For example, some of the data entry screens and text boxes didn't cover what we needed, but there were no options to change this - the software was too rigid and inflexible, allowing little room for customisation."
Having struggled to find a solution, David saw an advertisement for a new rapid development app platform from Bluefinity International called Evoke, which offered a cost-effective, flexible solution that would allow for faster app development.
Using Evoke
Evoke enables the rapid development and deployment of mobile, desktop and web, hybrid and native apps, enabling businesses to extend their enterprise applications to customers, employees, and partners in a fraction of the time and cost of traditional methods. One of the key attractions for Enteruptors was Evoke's rich data management capabilities and flexibility. The product integrates with SQL and MultiValue databases and allows full synchronisation between local systems and back-end databases. This meant that during the development process, Enteruptors could define the data it required for apps and transfer existing data into the new apps without any restrictions, saving time and money. Another benefit was using a single app design and code base, apps could be created for multiple device types and operating systems including iPads, iPhones, Android and Windows phones and tablets, plus Windows, Linux and Apple desktops. This has enabled Enteruptors's customers to access the apps using a variety of devices and not just be limited to their desktops.
The company was also impressed by Evoke's designer technology which automates the creation of default information and files for base apps. It offers all the major features of a typical RAD environment including menu creation, integration of device specific features, styling and data management, along with a WYSIWYG screen. Because the system is flexible, Enteruptors could retain the existing screen design of its original apps and maintain the same design look and feel for the new apps - ensuring customers had a consistent experience.
The solution is also future proof - no matter how much the business needs will change or the technology evolves, it offers an unlimited growth path. This was important for a growing business such as Enteruptors.
The solution
Using Evoke, Enteruptors has rolled out cloud-based apps for customers which are easier to manage, update and maintain. There are fewer client technical issues and the IT maintenance time has significantly reduced. The company has also enhanced its solutions, adding further customisation.
David Jordan explained, "We've introduced more sophisticated apps for our customers. We are now capable of managing different languages different currency options. This was a powerful change which has enabled us to reach new customers internationally. The new apps also allows us to develop greater cognitive processes to simplify compliance, turn regulation into results and knowledge into action. We are able to deliver substantial improvements for our clients."
"Throughout the development journey, we worked incredibly closely with Bluefinity. They supported us and helped us with all aspects of the development. We were able to feedback our views about Evoke and even suggest some tweaks to the product which has further enhanced the solution."
Before using Evoke, Enteruptors's development work was increasing and becoming costly. However, the company now uses the same developers and it hasn't needed to increase their development time or their budget.
David concluded, "Our business is more dynamic and we can respond more easily to customer changes and recently, this has enabled us to expand the business and open offices in the UK. We are offering sophisticated cloud-based apps that enable our customers to keep on top of regulations and manage compliance more easily."
Malcolm Carroll, Director, Bluefinity International said, "We are delighted to have enable Enteruptors to move into a cloud-based environment cost effectively and further innovate and expand internationally. Using Evoke it has the right platform in place to achieve further growth and success."