Use your Existing Staff to Design Powerful Apps


Anyone that can use a personal computer and understands the database structure of your data can use Evoke to build a comprehensive, elegant, full function app design. Users simply use Drag and drop, Point and click and Option Select to create menus, screens, etc. and then Evoke generates these into the deployable app.


The people in your organization best suited to work with Evoke are the people that already know your business, your customers and your business requirements. There is no need to recruit specialist staff to build your apps with Evoke, you can use your existing staff.
Included within the initial low-cost license, BlueFinity provides extensive direct support to assist with all stages of your app development. This applies to all personnel regardless of technical expertise, whether you are citizen developers or IT personnel.
From day 1, BlueFinity provides the on-line support you need to create the mobile/desktop app you want from when you start to use Evoke, through to your deployed /live app being used by your customers.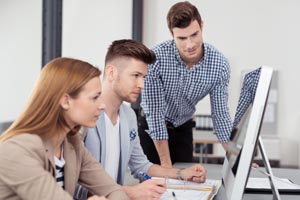 Review of your computer system/database -
New Evoke users are invited to participate in an "Environment Review" meeting. During the Environment Review BlueFinity experts will help check that the full environment around your Evoke installation is up to date, complete and correct. Typically, we help identify and add components and help set configuration settings in Visual Studio, assist with IIS options, establish connectivity to your database(s), help check your .Net environment, etc. We will then help you start to create your initial app design. The Environment Review will not finish until we have jointly created your first app (the initial screens) and you have generated it, had it authenticate with your database and be ready for you to complete the UI and functions desired and deploy.
User Training -
When the Environment Review is complete, we will schedule the "Initial User Training". We will first guide you through starting to use Evoke, the
context sensitive comprehensive online help system
, where to find
the support videos
, etc. We will then work together with you on your initial app, helping to create the first screens as an example of how to use Evoke.
Evoke's onscreen/in-app help then provides guidance in all aspects of building your app design. Its powerful designer and comprehensive widget/component library provides you with all you need to produce quality full function apps that meet your business requirements.
You can quickly build your user interfaces, define and manage your data, and employ Evoke no-code/low-code business logic to create your app. There is also extensive functionality available within Evoke which means that apps can be built by selection rather than coding.


Reviews of your app/development on request - At any time during your work to create and enhance your Evoke App Design you are able to request, completely free, "App Reviews" with experienced BlueFinity Team members. An App Review might be to help a customer get over a challenge that they have, to talk through different ways of achieving something in an app, provide refresher training on an aspect of Evoke use, etc. Evoke users can request as many or as few App Reviews as they require or would like. The BlueFinity team are always happy to help and are keen to see the different uses and ways our customeers have employed Evoke in the creation of their apps.


The sheer usability of Evoke means that you no longer have to recruit specialist development staff to produce sophisticated mobile and desktop apps. Your existing staff can build the app designs in Evoke quickly and efficiently, focusing the rest of their time on your existing products.
Where
a further level of customisation
of the app is desired by the customer then Evoke's unique
"Code Hooks"
, that can be added anywhere in the design, also allow for your existing software/code to be re-used (called as sub-routines), functionality from industry standard Component Libraries (jQuery, ASP.NET, Knockout etc.) to be accessed or for new unique custom code to be created in the industry standard IDE Visual Studio. BlueFinity's support team are again on call to assist with questions on how this is best achieved.
In addition, Evoke's use of "The Cloud" in the development process also means that management, and business users can be fully involved by reviewing the app/app design at various stages of its build, and will be able to pass comment and make suggestions. This means that development can become a truly iterative process, resulting in better apps meeting real business requirements.