Use your Existing Staff to Design Powerful Apps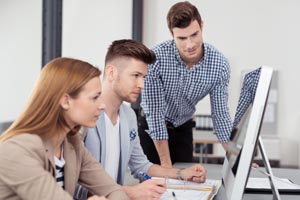 There is no need to recruit specialist staff to work with Evoke. The people best suited to work with Evoke are the people that already know your business, your existing staff.
Evoke provides guidance in all aspects of design. Its powerful designer provides you with all you need to produce quality apps to meet your business requirements. You can quickly build your user interfaces, define and manage your data, and employ Evoke guidance and business logic to create your app. There is also extensive functionality on call within Evoke which means that apps can be built by selection rather than coding. The sheer usability of the product means that you do not have to recruit specialist development staff to produce sophisticated apps. Your existing staff can participate in Evokes familiarisation programme and be able to call upon the on-line help and support, so that they can quickly be in a position to start developing apps.
Evokes' use of the cloud in the development process also means that management, and business users can be fully involved by reviewing the app at various stages of its build, and will be able to pass comment and make suggestions. This means that development can become a truly iterative process, resulting in better apps meeting real business requirements.