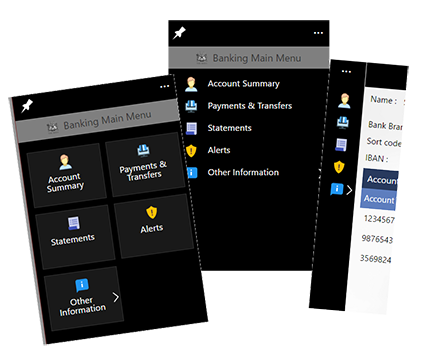 The Evoke Menu builder helps you adjust the menu in your app design to have the look, feel and function that you want and you believe is right for your customers.
Menu Style
Menus in Evoke Apps will adapt automatically. On a desktop computer you can choose if the user will see either the "hamburger button" menu, a tiled menu, a icon/text based menu, a text only menu or a minimal menu (just the icons) when they open your app. On mobile devices the traditional "hamburger button" menu will appear, top left, as the default menu. Clicking the "hamburger button" will reveal the menu in the style you choose from the list above.
Your app users can select their own menu style, when using the app, or pin/unpin the menu between the desktop style and the hamburger button style.


Menu Styling
All the styling aspects of your app menu can be configured as part of the app design
theme
, you can:
Set the colours for the menu background, header, etc.

Add a help button in your App menu that will allow your App users to access App specific user help (that you are able to set up). Choose 'in app' help screens or access an external URL for context sensitive help web pages.

Display a Logo or corporate message that will appear, near to the bottom, on the menu bar of your App.

Change the default Main Menu Text and add a small icon/logo to be included with the text.

Customise additional images and styles of you app menu.


Using the Menu Builder
The Evoke menu builder makes it easy to create your menu, you can select:
User Security and Navigation Control
Each menu item, along with other functionality within Evoke can be controlled by
Evoke access control
.
Based on either the user group that the logged-in user is a part of, or any data picked from your database/that user enters, each menu item can be:
Visible and Enabled for this user

Visible and Disabled for this user

Not visible or enabled for this user
This allows different users to access, use or see; different parts or components in the App based on their security/access level, department/role or based on responses/data that they enter while using the app.