Evoke User Guide

---
Evoke is a powerful, yet easy to use, system that will allow you and your existing staff to create sophisticated business apps in a fraction of the time. The
basics of using Evoke
to create powerful, sophisticated business apps should be reviewed and then this user guide will help you discover, understand and navigate through building your own apps with Evoke.

After downloading Evoke and logging in with your account details, the system is easy to navigate using the navigation menu on the left of the screen, leaving the main part of the screen as your Evoke workspace.
First, You will need to
select the app
design, in your account, that you want to work on or choose to create a
new app
, which will setup a new blank app design with default pages and menu items for you to change. You will notice that we have included some demonstraton app designs in your account for you to review and, if desired, copy the way we have used Evoke functions. These demonstration app designs may also be used as seed apps (a starting point) of you wish to create a similar app. Please ask BlueFinity about our other seed apps that we are happy to give to you.
We use various terms, consistent with App development, within Evoke and you will find our
Glossary
helpful to ensure a consistent understanding of these terms.
Apps
After selecting an app design to work on you are automatically directed to Apps to update the App Settings. This section then allows you to set up the location of your login page, how you will validate the user logging in and what to do upon a successful login i.e. display another screen. It will also allow you to set up or use a saved "Theme" for your App, identify the different access control user groups that your app will use, specify the developers you approve to work on your app, etc. For more information on App settings please see
"App Settings"
.
Entities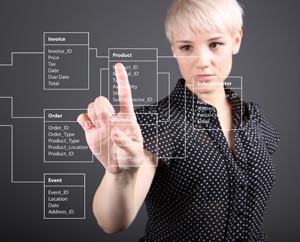 The Entities section in Evoke allows you to define and set up the data structure for use by the User Interface (UI) in your App. This usually will be a subset of the data structures in the databases that you use in your backend products or database. In addition you can set up App User Interface only properties, classifications and selections. For more information on Entities please see
"Entities"
. Entities can be automatically
imported
and
exported
to and from your database.
Repositories
You will need to link some or all of your UI data structures in Evoke to the actual databases in your backend system/database. The Repositories section of Evoke allows you to define the different databases that you will access, if the access will be direct or through stored procedures, the connection method and location of the database(s). For more information on using different repositories in Evoke please see
"Repositories"
.
Data Mappings
Data Mappings in Evoke allows you to link a UI data structure property to the corresponding database colummn/field. In addition, you can define selections that you want to run against database tables/files and choose different mapping schemes. For more information on Evoke Data Mappings please see
"Data Mappings"
.
Menu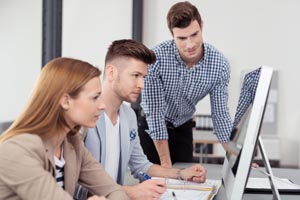 Evoke has a comprehensive menu sub-system which allows you to define your menu structure, who can use which menu options, the menu hierarchy and how the menu options operate. For more information on Evoke menus please see
"Menus"
.
Page Series
Each menu item links to its own Page Series. In this section you can add pages, link in other pages, import pages and set actions and selections that will be run when a Page Series is accessed. For more information please see
"Page Series"
.
Data Sources
Data Sources are the data areas held within the UI, structured by the Entities, that are used by the App pages and Functionality Actions in the App. You can add multiple Data Sources for each Page Series and set criteria against these. For more information on Data Sources please see
"Data Sources"
.
Pages
Pages are where you define each screen that the user of the App will see. A WYSIWYG interface makes it easy to structure pages, create adaptations, include images, text and data widgets. For more information and an example of where to start please see
"Pages"
.
Generating Your App
The Evoke generator uses the design of the app (that you have created) and converts it into hard IDE content in order to deploy the app. This content may then be deployed as Web Apps, Hybrid Apps or Native Apps or the complete generated Visual Studio or Xamarin projects can be accessed to add customisation if you wish. For more information on the Evoke generator please see
"Generator"
.
Account
The "Account" screen, accessed from the Evoke navigation menu, allows you to manage the App Themes that you have saved against your Evoke Account and the User Logins provided as part of your Evoke Account. For more information on Account please see
"Account"
.